HandySCAN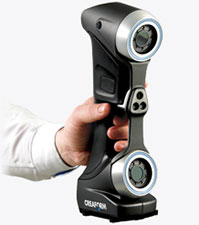 The HandySCAN 3D™ family of next generation hand-held scanners have been optimized to meet the needs of product development and engineering professionals on that require the most effective and reliable way to acquire 3D measurements of physical objects.
Creaform's flagship metrology-grade scanner underwent a complete redevelopment, building on its core assets. They are now more portable and faster than ever, delivering accurate, high resolution 3D data while remaining overly simple to use. Yet, it is their true portability that has changed the rules and set a whole new trend in the 3D scanning market.
When accuracy meets portability. Introducing the HandySCAN 3D laser scanners.
HandySCAN 300™
Looking for the most efficient way to reverse engineer and/or design? The HandySCAN 300 is a reliable tool that will help you get there.
HandySCAN 700™
The HandySCAN 700 offers increased accuracy and resolution. It is the most versatile 3D scanner on the market for inspection and demanding reverse engineering.
25 times faster than the previous generation
40% more accurate
Improved ergonomy
35% lighter
50% smaller
Greater freedom of movement
Multi-function buttons for easier interaction with the software
TRUaccuracy: Accurate measurements in real life operating conditions.
Metrology-grade measurements: Accuracy of up to 0.030 mm (0.0012 in.), resolution of up to 0.050 mm (0.002 in.), high repeatability and traceable certificate.
Accuracy in real-life conditions: Regardless of environment conditions, part set-up or user.
No rigid setup required: Optical reflectors are used to create a reference system that is "locked" to the part itself, so users can move the object any way they want during scanning sessions (dynamic referencing). Changes in surrounding environment have no impact on data acquisition quality or accuracy.
Self-positioning: The HandySCAN 3D scanner is a data acquisition system and its own positioning system. This means that no external tracking or positioning devices is required. It uses triangulation to determine its relative position to the part in real time.
Reliable: Consistent and repeatable results across all work conditions or environments.
On-demand user calibration: The scanner can be calibrated as often as necessary (day-to-day basis or before each new scanning session). Calibration takes about 2 minutes and guarantees optimal operation.
TRUportability: 3D scanning where you need to go.
Stand-alone device: there is no need for an external positioning system, arms, tripod or fixture
On-the-go scanning: you can take it from place to place or use it in-house or on site
Lightweight: weights under 1 kg
Small: Fits into a case the size of a carry-on
Easy access to confined spaces: thanks to its small size and flexible stand-off distance
Speed: Fastest path from physical objects to your design or inspection workflow
Fastest 3D scanner on the market: 25 times faster than the previous generation.
Highest measurement rate among all laser scanners: 480,000 measures/s.
Automatic mesh output: Ready-to-use files, right as you complete acquisition.
Quick workflow integration: Usable scan files can be imported into RE/CAD software without post-processing.
TRUportability: Overly simple 3D scanning process
User-friendly: very short learning curve, regardless of the user's experience level.
Quick set-up: up and running in less than 2 minutes
Direct mesh output: no complicated alignment or point cloud processing.
Real-time visualization: look at the computer screen to see what you are doing and what is left to be done
Versatile: virtually limitless 3D scanning – no matter the part size, complexity, material or color

Go!Scan 3D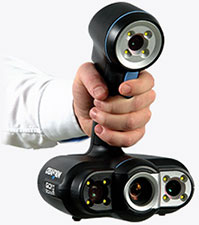 The Go!SCAN 3D™ product line offers our easiest portable 3D scanning experience, providing exceptionally fast yet reliable measurements. This next generation of scanner has also added full 3D color.
You need simplified, quick, and accurate 3D scanning? The Go!SCAN 3D™ were designed with you in mind. Through a very efficient process, these self-positioning systems can be used by anyone without requiring any prior experience or background, and provide visual guidance as you are scanning. Their innovative technology bypasses preparation steps and specific setups, provides a very fast measurement rate, and does not require manual data post-processing.
Highly versatile, they can be used for a wide range of applications, helping professionals throughout the entire product development process.
Easy. Fast. Reliable. Introducing the Go!SCAN 3D™ scanners.
Go!SCAN 20™: Thanks to its increased resolution, the Go!SCAN 20 is perfectly suited for scanning small parts with intricate details.
Go!SCAN 50™: With its larger a larger field of view, the Go!SCAN 50 model is ideal for scanning medium to large objects quickly and effortlessly.
TRUsimplicity
Hybrid positioning: uses the parts' natural geometry and color.
Point-and-shoot: no need to prepare parts. Just go!
User-friendly: no experience required, up-and-running in minutes.
Scan in color: allows for seamless capture of high-quality geometry and colors simultaneously.
Real-time visualization: look at the computer screen to see what you are doing and what is left to be done.
TRUportability
Stand-alone device: the part is the reference, no external positioning system needed.
On-the-go scanning: fits into a carry-on case, so you can use it both in-house or on site.
Lightweight and small: weighs under 1 kg (2.2 lb.), can reach confined areas. Fits into a carry-on.
Speed
Fast: typical objects are scanned in 5 minutes or less
High measurement rate: capture large amount of 3D data for faster scanning
Automatic mesh output: ready-to-use files (geometry and color), right as you complete acquisition.
Quick workflow integration: usable scan files can be imported into RE/CAD/3D printing software without post-processing.
TRUaccuracy
Professional-grade measurements: accuracy of up to 0.1 mm (0.004 in.) and resolution of up to 0.2 mm (0.008 in.).
Built-in intelligence: ensures that 3D data is high-quality and accurate.
Optional targets: possible to use targets to compensate for an object's lack of positioning information.
No rigid setup required: both the part and the scanner can be moved during scanning.

VXmodel 3D Scanning Software
VXmodel delivers flawless results when used with the Go!SCAN 3D scanners, Creaform's easiest and fastest 3D scanning technology. This powerful duo is perfect for engineers and designers looking for a professional-grade solution to print 3D scan files or import them for use in CAD software…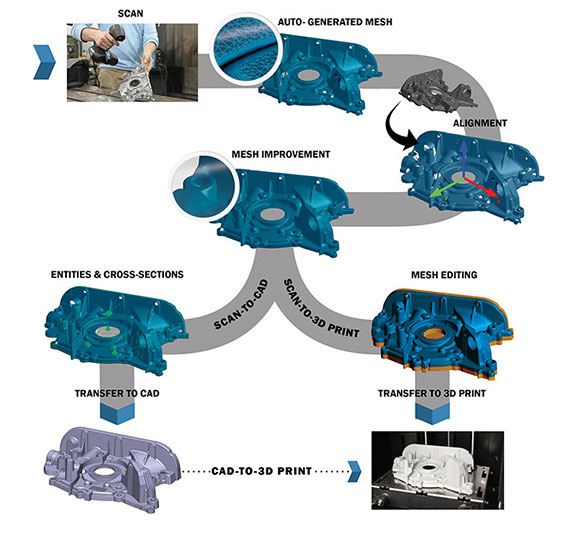 As an add-on to VXelements, VXmodel offers a transparent, easy process to finalize 3D scans for CAD or 3D printing.
3D Scan-to-3D Print: When combining a scanner from the Creaform Go!SCAN 3D line with VXmodel and its 3D-scan-to-print functionalities, you can scan any 3D object, clean up your mesh, make it watertight and quickly generate print-ready files. Thanks to VXmodel, you can bypass the post-treatment step and directly move on to 3D printing, since the scan files can be directly sent to a 3D printer to create accurate replicas of the object.
Looking for time efficiency and versatility in 3D scan-to-print software? That's exactly what VXmodel offers. Plus, it is available at a significantly lower pricepoint than any other competitor software on the market, which guarantees an excellent ROI.
3D Scan-to-3D Print: Since you do not necessarily want to print your 3D scan files right away and may rather wish to bring them to CAD first, VXmodel provides simple yet effective bridge-to-CAD functionalities.Within a few minutes, you can extract entities and surfaces from the file generated with the Go!SCAN 3D, and import them directly into your CAD software to use as a reference for creating an accurate 3D model of the part that you can send to your 3D printer whenever you are ready.
VXmodel and Go!SCAN
Effective and fast package
Seamless and quick integration into the 3D printing or CAD process
No need to use a 3rd party post-treatment software; you can work directly into your favorite CAD software
Expressly designed to work together with the Creaform portable 3D scanning solutions
Simplified Scan-to-CAD/Scan-to-Print Workflow with VXmodel
VXmodel fully integrates with Creaform 3D scanners, while providing only what you need and nothing more: the simplest and fastest path from your 3D scans to your CAD or additive manufacturing workflow!

MetraSCAN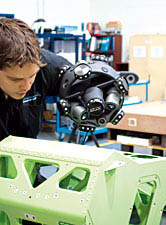 The Most Accurate Measurement Solution. Creaform'sTRUaccuracy™ technology ensures highly-accurate measurements, regardless of the measurement environment (instability, vibrations, thermal variation, etc.) or operator skills.
With the dynamic referencing mode of the C-Track, the coordinate system can be literally "locked" onto the part(s) being measured, thus maintaining part alignment during the entire scanning process.
With the automatic alignment function, manual operation is no longer needed during the alignment phase and root cause errors are drastically reduced.
With the fast user calibration process using a certified gauge, the MetraSCAN delivers constant accuracy during its entire life cycle.
With the continuous monitoring of parameters (temperature, accuracy, etc.), constant accuracy is ensured during the entire useful life of products.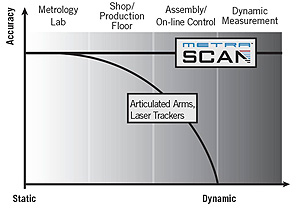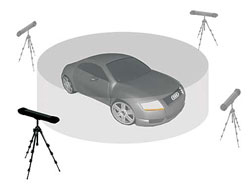 Complete and Powerful Inspection Solution. Allows geometrical and freeform inspection on the same part with the same system. The automatic alignment capability with optical reflectors allows to scan and probe many identical parts in rapid succession.
Faster and Easier Measurement. Handheld and armless. Easy-to-learn, intuitive system with a very short learning curve. Installation in less than five minutes. Allows the measurement of parts in production without having to align every part.
Greater, Extendable Measurement Volume. Compared with 3D scanners on articulated arms, the MetraSCAN allows a greater basic measurement volume. In addition, this volume can be easily and dynamically extended with no loss of accuracy and withoutany conventional leapfrog or additional alignment set-up involved. No need for the operator to re-align data after moving the part or the C-Track.
Truly Portable Device. The 100% portability of the MetraSCAN makes it possible to inspect or reverse engineer parts, sub-units or complex assemblies with unequalled precision, mobility and flexibility – no matter where (lab, factory, off-site, etc.).
Excellent ROI. Yields considerable productivity and operating profits in industrial coordinate measurement and control.

HandyProbe Portable CMM
The portable CMM arm-free probing system HandyPROBE™ and the C-Track™ dual-camera sensor form a unique duo that generates high accuracy measures and increases the reliability and speed of the measurement process.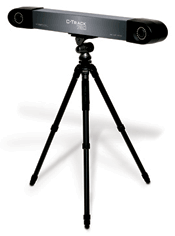 Compared to other existing coordinate measurement technologies, the HandyPROBE portable wireless CMM gives you total freedom of movement, allowing for significant increase in productivity and quality of work.
The C-Track dual-camera sensor is fitted with high quality optics and special lighting, enabling it to measure all reflectors within its operating space. In addition to tracking the whole system's reference model, the C-Track ensures the exact localization of the HandyPROBE, performs continuous image acquisition and transmission, lighting of reflectors, wireless communication with the HandyPROBE stylus, management of the exchanges with the computer and storage of the sensor parameters.
Inspection
Part-to-CAD analysis
First article and supplier quality inspection
Conformity assessment of 3D models against the original parts/production tooling
Conformity assessment of manufactured parts against the originals
Alignment
Tooling certification
Multi-shot measurement (up to 30 points/sec.)
Reverse engineering of geometric entities (spheres, cylinders, planes)
When used in conjunction with a Handyscan 3D laser scanner, allows for faster and more accurate reverse engineering of mixed parts (geometrical and free-form) Various industries use the HandyPROBE™ arm-free portable probing system:
Aerospace
Automotive/Transport equipment production
Consumer products
Education
Metallurgy and metal processing
Machine tool production
Forming, molding, manufacturing, casting and assembling

3D Scanner Applications
Reverse Engineering:
Surface reconstruction
3D modeling
Tooling & jigs development
Maintenance, repair and overhaul (MRO)
Finite Element Analysis (FEA)
Inspection:
Non contact inspection
First article inspection
Supplier quality inspection
Part-to-CAD inspection
Conformity assessment of 3D models against the original parts / production tooling
Conformity assessment of manufactured parts against the originals.
Other applications include 3D archiving, complex shape acquisition, measurements archiving, damage assessment, digital models and mock-ups, packaging design and rapid prototyping.