HandySCAN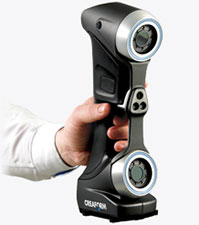 The HandySCAN 3D™ family of next generation hand-held scanners have been optimized to meet the needs of product development and engineering professionals on that require the most effective and reliable way to acquire 3D measurements of physical objects.
Creaform's flagship metrology-grade scanner underwent a complete redevelopment, building on its core assets. They are now more portable and faster than ever, delivering accurate, high resolution 3D data while remaining overly simple to use. Yet, it is their true portability that has changed the rules and set a whole new trend in the 3D scanning market.
When accuracy meets portability. Introducing the HandySCAN 3D laser scanners.
MetraSCAN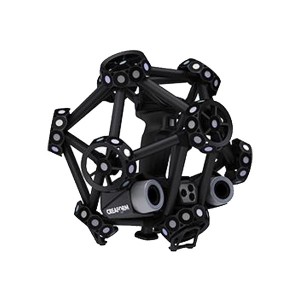 The new MetraSCAN 3D addresses the need for reverse engineering and dimensional inspection of production tools, jigs, assemblies, sub-assemblies or final products ranging from 1 to 3.5 m (3.3 to 11.5 ft.) with an accuracy of up to to .030 mm (0.0012 in.).  The MetraSCAN provides a real alternative to portable arm type CMM's, with superior performance in manufacturing environments where parts cannot be properly fixtured, and vibration may be an issue.
Optical metrology provides measurement accuracy that is insensitive to the instabilities of the environment, making the MetraSCAN 3D optical CMM the prime choice for shop-floor quality control metrology. Free of any rigid measurement set up, it maintains the same level of performance regardless of the environment instabilities.
Go!SCAN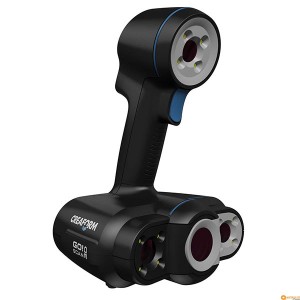 The Go!SCAN 3D™ product line offers our easiest portable 3D scanning experience, providing exceptionally fast yet reliable measurements. This next generation of scanner has also added full 3D color.
You need simplified, quick, and accurate 3D scanning? The Go!SCAN 3D™ were designed with you in mind. Through a very efficient process, these self-positioning systems can be used by anyone without requiring any prior experience or background, and provide visual guidance as you are scanning. Their innovative technology bypasses preparation steps and specific setups, provides a very fast measurement rate, and does not require manual data post-processing.
Highly versatile, they can be used for a wide range of applications, helping professionals throughout the entire product development process.
HandyPROBE
Manufacturers and production managers can use portable measurement technologies to enable considerably greater flexibility and efficiency in performing quality control (QC) operations directly on the production floor. The HandyPROBE Next™ portable CMM provides measurement accuracy that is insensitive to the instabilities of any environment. Free of any rigid measurement setup, the portable CMM outperforms traditional arm based portable CMMs on the shop floor.
MaxSHOT 3D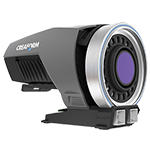 The MaxSHOT 3D™ family is revolutionizing measurement accuracy and repeatability for product development, manufacturing, quality control and inspection. Equipped with an innovative user guidance technology and a simple, yet sophisticated software, the MaxSHOT 3D is the optimal choice in photogrammetry for users of all levels. Avoid measurement errors, increase quality of products, boost efficiency and reduce your operating costs with. Use MaxSHOT 3D to obtain 3D measurements directly or seamlessly use it in collaboration with any of Creaform's 3D scanners to measure large parts.
Academia Packages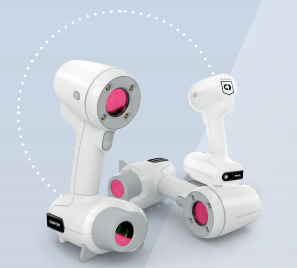 Discover Creaform ACADEMIA™, a brand-new solution suite for forward-thinking teachers and researchers looking to inspire, collaborate, and push the innovation envelope forward using the latest advancements in 3D measurement technologies.
With this new educational program, Creaform goes beyond delivering didactic tools and provides a complete and collaborative skill-nurturing academic solution. The suite let's you choose from our full line of 3D scanners and portable CMM, free application software, complimentary add-ons as well as useful tools tailored to get you started with industrial 3D measurement solutions.
Peel 3D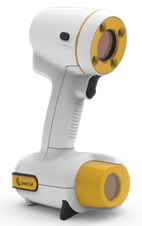 Peel 3D is professional-grade handheld 3D scanning in its purest form. It has no useless gadgets to make it seem more interesting or appealing. It simply lets you make high-quality 3D scans of small or large objects while keeping your project on a budget. It can scan most items directly without any preparation as it recognizes the shape of objects automatically. Trying to scan something very smooth? No problem! This 3D scanner can also use stick-on markers to let you scan the flattest surfaces.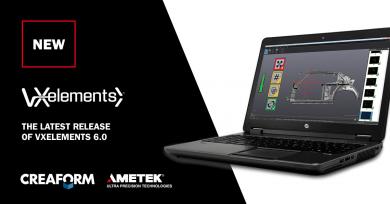 Want More Info on Creaform 3D Scanners?
Want More Info on 3D Scanning Services?