3D Scanning & Reverse Engineering a Transmission Case
3D Scanning & Reverse Engineering Services performed for Mazworx Manufacturing Inc.
The Problem:
Mazworx is an automotive company that specializes in chassis fabrication, engine design and CNC Machining.  They produce engine parts and engine blocks for performance vehicles that participate in Formula D and drag racing.  There is a high demand for aftermarket parts for cars like the Supra that are no longer in production.  Mazworx fills that demand with high quality machining.  They approached NeoMetrix Technologies, inc. asking if we can scan a transmission case of a Supra for them and provide an accurate .STL model.  
Traditional Method:
Cars that were designed before mid-1990s were not created with the level of precision and accuracy that modern CAD (computer aided design) programs offer today.  Blueprints are the only accessible documents that provide accurate measurements of any part, and even then, they will have to be re-modeled in CAD without any reliable 3D information.  If blueprints are not available, then the physical part will have to undergo an extensive period of hand measurements.
NeoMetrix Solution:
We offer quick reverse engineering solutions.  We can digitally replicate any part whether it is no longer in production, or its designs are outdated.  We do so using the Creaform HandySCAN.  This 3D scanner is portable, easy to set up and accurate collecting data points within 0.001 – 0.002 inches.  
The setup includes calibrating the scanner, which takes one minute, and then the part is targeted up to provide points of reference for the HandySCAN.  The targets allow the part to be moved and repositioned to ensure the entire surface is scanned.  Unlike other scanners, the HandySCAN handle vibrations and movements while not sacrificing quality in the scan.  The result is a 3D mesh model that provides accurate 3D data which the client can use to create an accurate parametric model and attain measurements instantaneously without doing any by hand.  A CAD model can be modeled directly from the .STL which results in quicker modeling with higher quality.  
NeoMetrix Advantage:
Our services provide our customers with the solutions they need.
Unmatched level of accuracy

Ease of use

Portability

Quick turnaround time

Minimal prep work

Cost efficient

Quality in design
Scanning the Transmission Case with the HandySCAN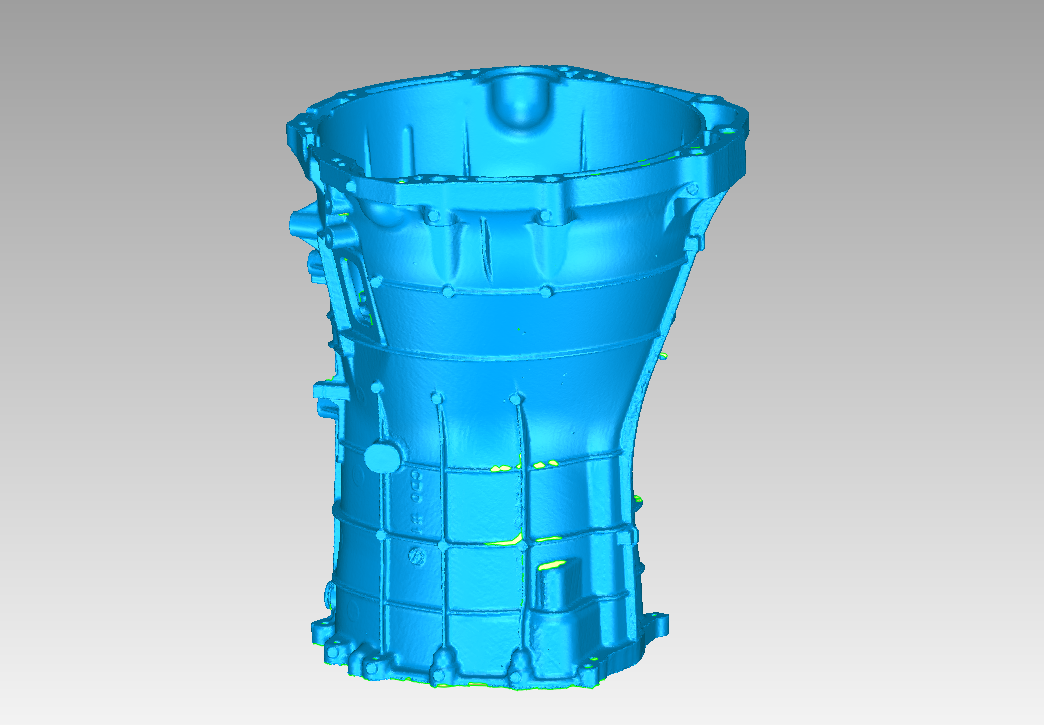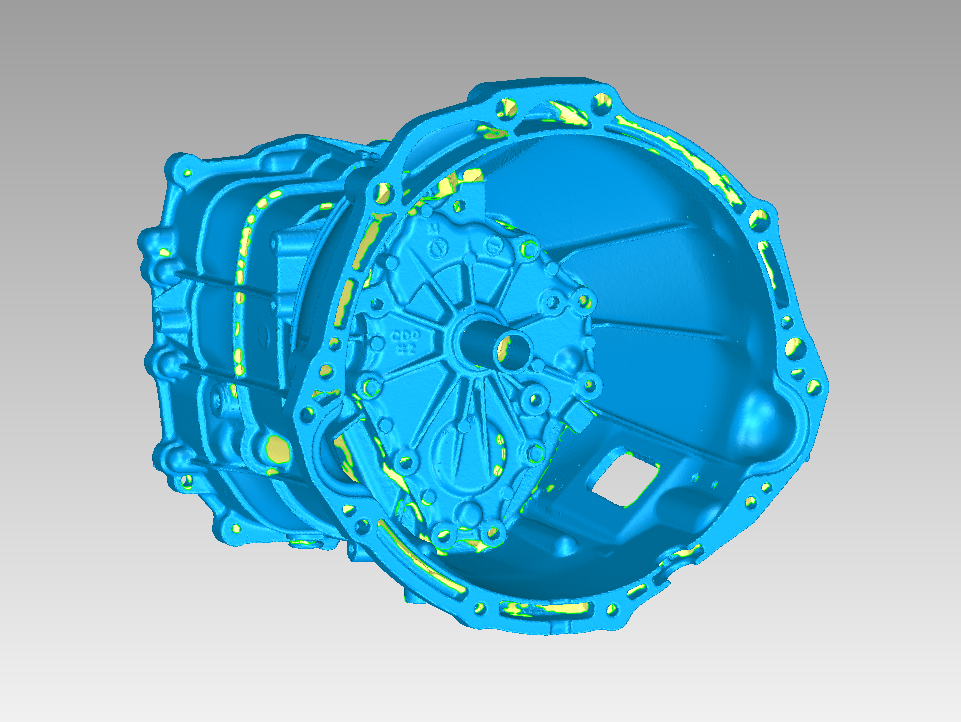 Transmission Case Scan Data
3D Rendering of Transmission Case