3D Scanning and Reverse Engineering Jeep Grills for Customization
Lopater Customs is an automotive company focused on making custom components for Jeeps and other vehicles. It is their mission to help the everyday person see their dream cars be made a reality. Nothing is too crazy and nothing is impossible when it comes to custom modification in the automotive industry.
They pride themselves on working with their customers to make their dream cars become realities. Lopater Customs is both a MESA and MECP Certified Mobile Electronics Installer, providing services at each customer's specified location.
The Problem:
Recently, Lopater Customers wished to replicate the front grill style of one Jeep onto that of another Jeep front grill which had both a different style and dimensions. This seemed to be a daunting task for the team as they needed to fabricate a design of one grill to that of another which did not have the same measurements whatsoever.
Traditional Method:
Typically, manual measurements would be required to obtain the desired results; an option that is a very time consuming process and often very expensive. One of these methods, for example, would be to use a Coordinate Measurement Machine (CMM). CMMs are exceedingly expensive and exhaust a lot of time as the data is only as good as the amount of time put in. A less expensive alternative would be taking hand measurements using tools such as tape measurers and rulers, but it would be extremely difficult to achieve adequately accurate results or avoid errors.
NeoMetrix Solution:
The first step was to obtain accurate measurements using a handheld 3D laser scanner. With its extendable measuring volume, incredible speed, shop-floor accuracy and impressive capabilities on challenging materials, the MetraSCAN 3D optical CMM represents the most complete metrology-grade 3D scanner on the market – hence why we elected to use it for this service job.
The MetraSCAN uses a sensor, called the C-track, to track the location of a handheld scanner. This allows for large areas to be scanned without the need to cover the object in reference targets. This not only saves time, but it helps maintain volumetric accuracy over larger distances. Creaform's TRUaccuracy™ technology ensures highly-accurate measurements, regardless of the measurement environment.
With the MetraSCAN, we took 3D scans of both grills, a process that was completed a matter of minutes. Upon completing the scan, we opened the 3D scan data in Geomagic's Design X reverse engineering software. As the only 3G (third-generation) reverse engineering software on the market, Design X is the ideal complete software application for creating CAD models from 3D scan data. With Geomagic, you can open data from any 3D scanner and quickly create editable, parametric solid models of virtually any physical object.
Traditional first- and second-generation reverse engineering approaches require a perfected mesh, which can sometimes take hours to refine. With Design X, you skip directly to making the CAD model. The third-generation parametric reverse engineering approach inside Geomagic makes creating high quality, ready to manufacture CAD models fast and easy. Creating complete solid models accurate to within a few microns of a 3D scan takes less time than redrawing it in CAD.
NeoMetrix Advantage:
Where traditional measurement methods would have involved a time consuming trial and error process, we were able to obtain measurements of the utmost accuracy in just a matter of minutes by using our MetraSCAN 3D scanner. Using a sophisticated reverse engineering software, such as Geomagic's Design X, allowed us to simply upload the 3D scan data from both grills and apply the desired design from one Jeep grill to the exact dimensions of the grill on the other Jeep using its grill's dimensions.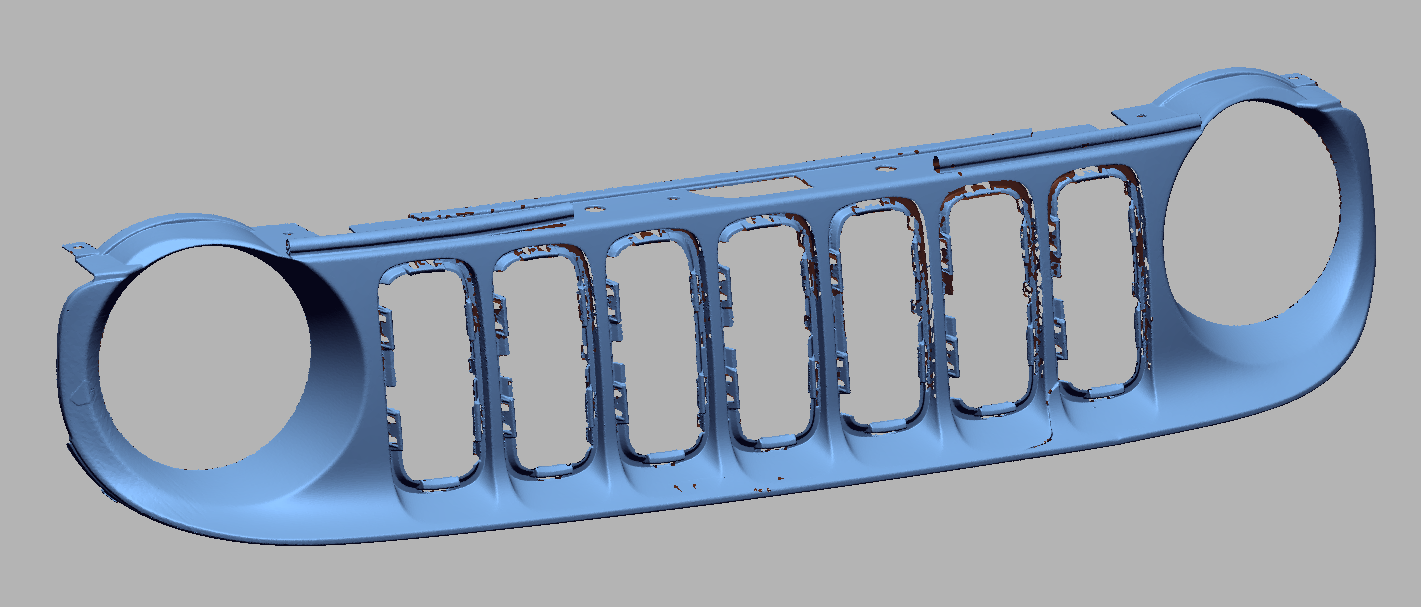 3D Scan Data from original grill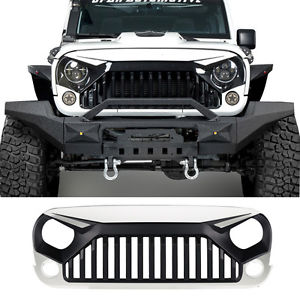 Desired grill design for original Jeep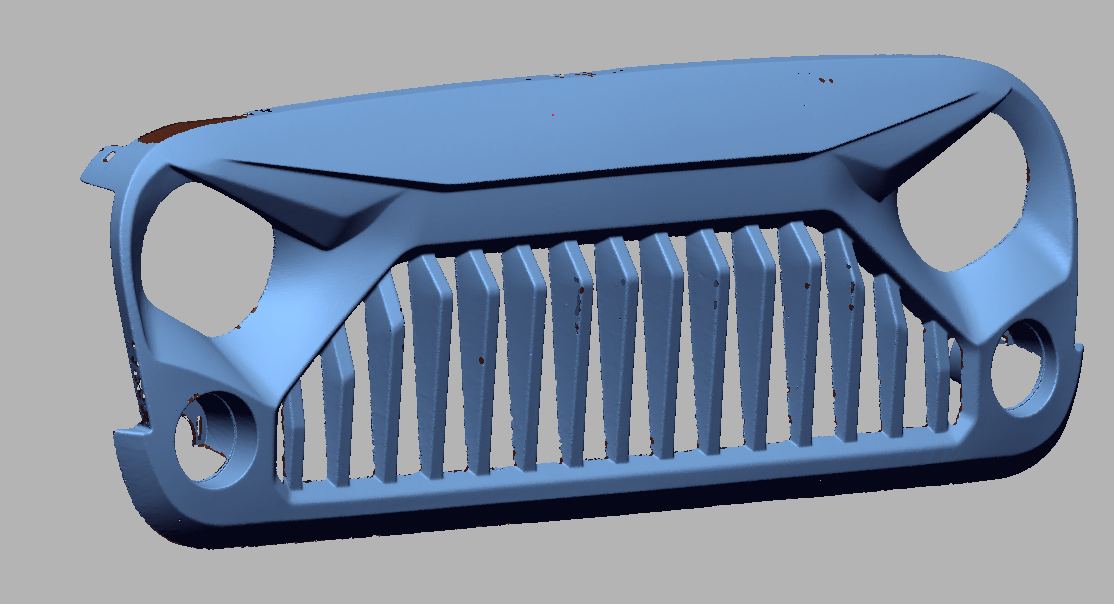 3D Scan Data of desired grill design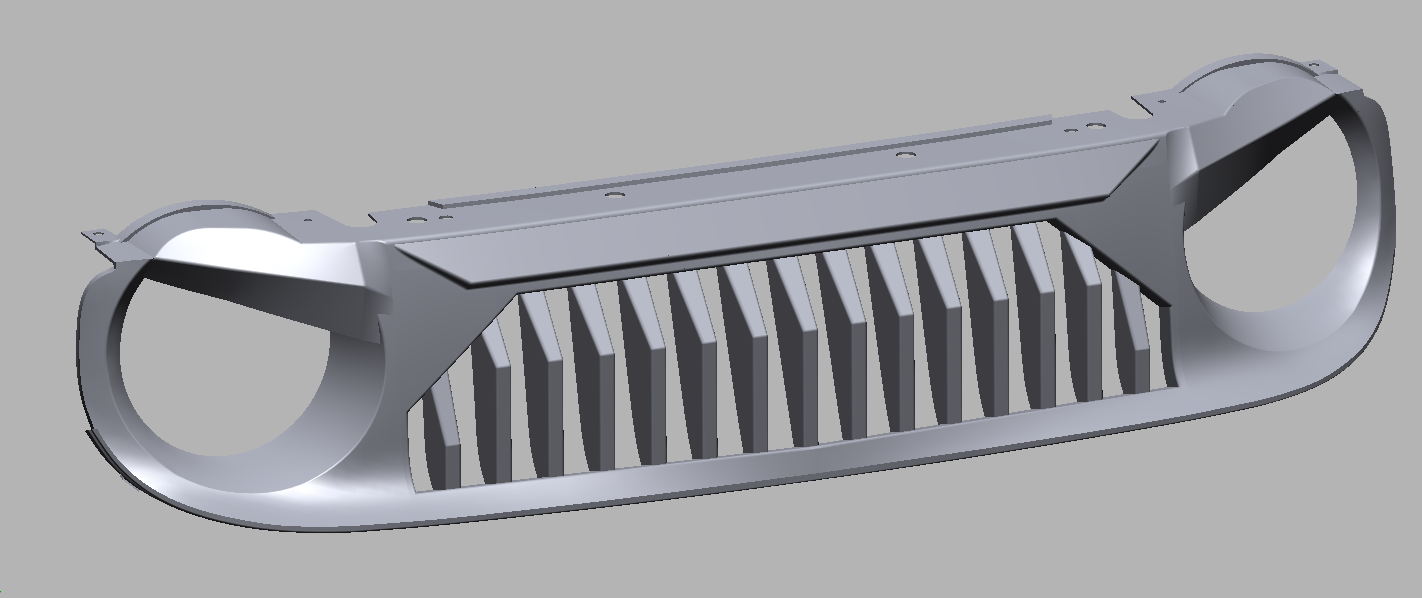 3D CAD of desired grill design with dimensions of original grill
Benefits from using NeoMetrix:
Unmatched Accuracy
Faster Results
Less-expensive
Minimal Prep & Manual Effort
High Quality Design