Zeiss Comet L3D
Zeiss Optotechnik proudly presents COMET L3D - a bright new star in the 3D digitizing universe.

Featuring innovative LED lighting technology, the extremely compact high-performance 3D sensor adds a new dimension of efficient 3D data acquisition. The new ultra-portable sensor makes 3D data acquisition even faster, easier and more accurate. It is the ideal cost-effective entry level solution for users who want to take advantage of the extensive functionality of optical metrology without compromising performance, technology or data quality.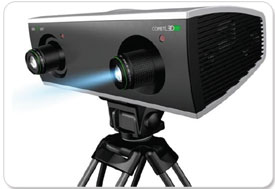 COMET L3D performs excellently even in demanding applications such as quality assurance. Its rugged design, the dustproof enclosure for the optical components of the sensor head, and the high-quality connectors allow use in industrial environments. The sensor is controlled via an industrial standard CAN bus interface. Thanks to its ultra-compact size and light weight, you can position the sensor using standard accessories (e.g. camera stands).
Transport, setup and commissioning of the overall system take very little effort. Designed for easy handling and use, COMET L3D offers you maximum flexibility and efficiency in all your measurement tasks.
Learn More About 3D Scanners