3D Scanning & Mirroring of an Angel Sculpture
The Problem:
American Bronze Foundry specializes in fine art bronze sculpture casting. Their customers expect the best in high quality bronze pieces. One of American Bronze Foundry's customers needed a mirrored cast of an old angel sculpture they have.
Traditional Method:
Traditionally, American Bronze would hand craft a mirror copy of the angel. This would involve using the original angel as a reference. American Bronze would need to take measurements and estimate curves to create the new sculpture. This process is incredibly time consuming, and truly pushes the artist's skills to the limit. No matter how skilled the artist is, the mirrored copy will never be 100% accurate to the original angel. There will be slight deviations and imperfections that may not be noticeable from a distance, but upon close inspection will be very evident.
NeoMetrix Solution:
With the power of 3D scanning, this process becomes extremely simple. Using the MetraSCAN 750 3D scanner, the entire angel sculpture can be captured to a very high accuracy in a matter of minutes.
The MetraSCAN uses a bar with cameras and LED's called the C-Track that is able to track the location of the handheld scanner. This method allows the user to scan something without needing to place reference targets on the surfaces of the object. This saves time on larger objects that would require many targets. The scanner itself uses a crisscross array of lasers to accurately capture surfaces of any color or reflectivity, thanks to an adjustable camera shutter speed.
The angel is scanned in 2 positions, to allow for 100% coverage of the entire sculpture. Using the scanning software, VXelements, the 2 scans are easily aligned and merged to create a perfect recreation of the original angel sculpture. This scan data is then exported as an STL mesh file.
The file is then imported into mesh-manipulation and surfacing software called Geomagic Wrap, which has a plethora of tools for editing and repairing mesh files. The angel scan is then cleaned up and flipped to create an identical mirror to the original sculpture. The mirrored mesh is then exported as an STL file and delivered to American Bronze.
NeoMetrix Advantage:
3D scanning takes all of the guesswork out of recreating sculptures and other objects. A sculpture crafted 100 years ago can be re-cast or duplicated perfectly. Additionally, the sculpture can be modified with a few button clicks and keystrokes.
Something that in the past would take many man hours from someone with years of experience can now be completed in a matter of a few hours. This saves the service provider money, which can be directly transferred to the customer, increasing productivity and profits.
As opposed to the traditional method, which results in a single new sculpture, the delivery of a STL mesh file allows for the data to be saved indefinitely, and the ability to modify the design in the future.
"We tasked NeoMetrix with a pretty difficult task. Our client had an existing sculpture of a grieving angel facing to the left. They wanted us to create a replica facing to the right to go on the other side of their vanishing pool. NeoMetrix came to our location, scanned the angel digitally and reworked the 3D file to face left. They did this quickly, reasonably and in a good time frame – all while saving us a tremendous amount of money. I highly recommend their digital services, they are a pleasure to work with."
– Shawn Ganim, American Bronze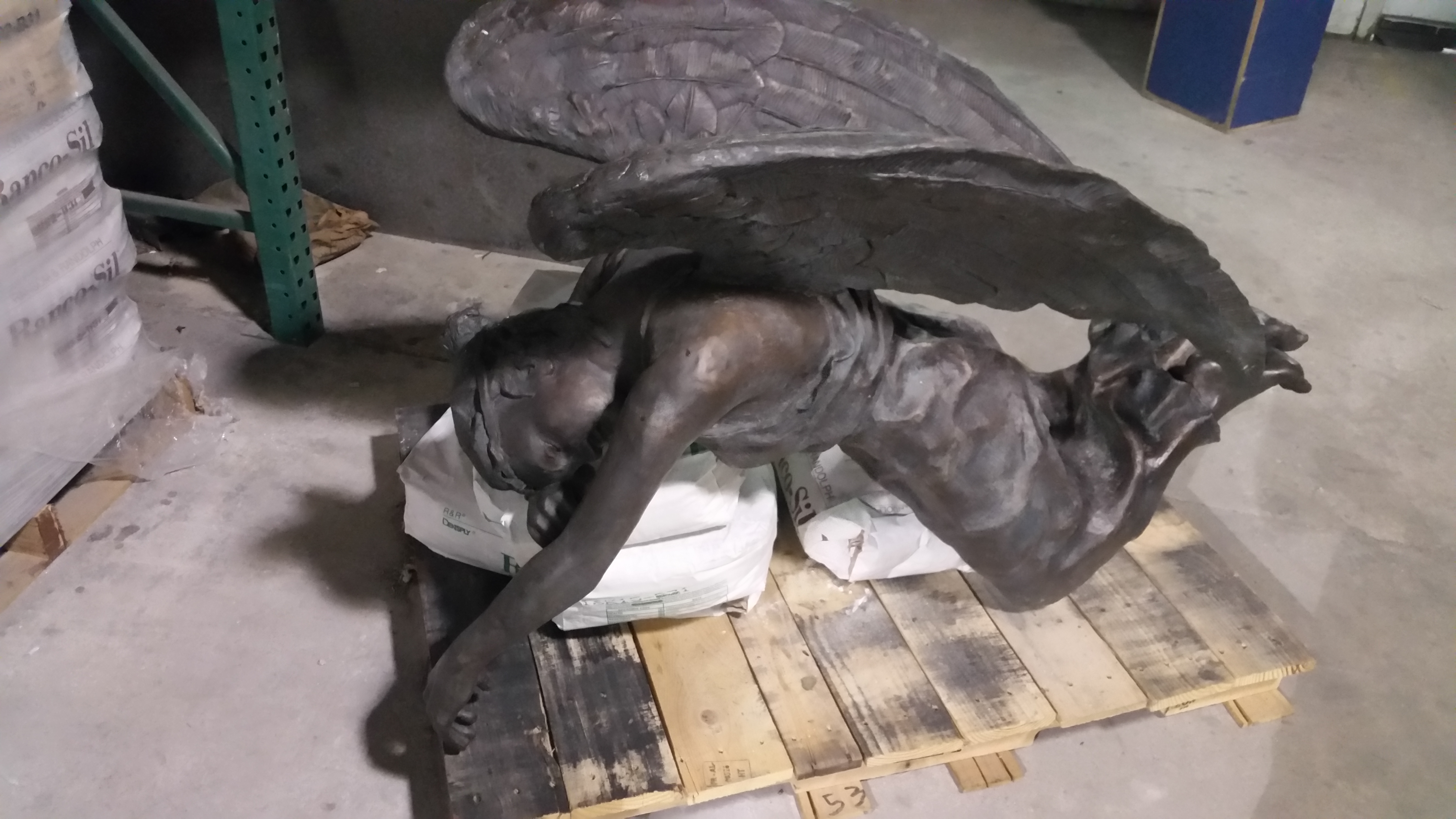 Angel Statue to be Scanned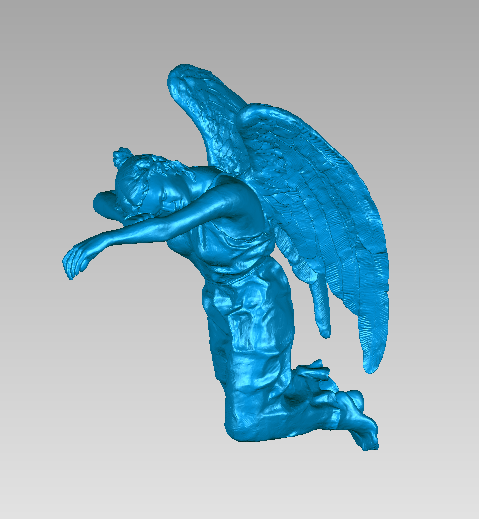 Left Wrap of Angel STL File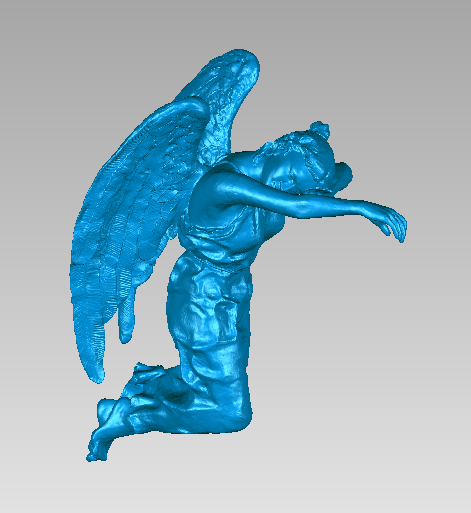 Right Wrap of Angel STL File