In collaboration with Delta Automation, Evatronix has successfully integrated their eviXscan 3D scanner with an industrial robot which allows for adaptive motion. The robot is able to read the position of the object being scanned in order to determine the optimal positioning. In turn, this has provided much more accurate scanning results and opened up the for contact-less quality control. In addition to this, high accuracy scans can be conducted automatically for rapid prototyping or 3D printing jobs.
"The eviXscan 3D solutions are traditionally applicable in industry for the purposes of reverse engineering, quality control and rapid prototyping," says Adam Morawiec, Vice-President for Development of Evatronix SA. "The collaboration with Delta Automation opens completely new areas of application for our scanners. It's a giant step towards Industry 4.0."

"We decided to collaborate with Evatronix SA to develop the control and measurement technology," says Adrian Stodolny, the President of the Management Board of Delta Automation Sp. z o.o. "The solution we have developed is applicable in many areas of industry, for instance, in the automotive industry where the highest accuracy of the engineering processes is required."
Already, the eviXscan Heavy Duty Quadro 3D scanner has been established as the first 3D scanner capable of scanning in all conditions. With the Heavy Duty Quadro, 3D scanning outside or in harsh conditions is now possible. It is the ideal 3D scanning product for scanning service providers, reverse engineering and prototyping, as well as companies seeking quality control on their product designs. The combination of 2 adjustable scanning ranges and four 5 megapixel cameras allow for extremely accurate scans of medium to large objects, in various conditions.
Some other impressive features from the eviXscan include: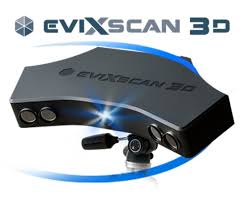 Precision certified to VDI/VDE recommendations
High power LED light source with 3 colours
Four 5 megapixel cameras
High quality lenses
Two scanning ranges – narrow & wide
Dust proof device – IP62
Suitable for industries & all types of production lines
Perfect for: quality control, rapid prototyping & reverse engineering
Low power consumption – 50W
Interested in an eviXscan 3D Scanner?
Want More Info on 3D Scanners?