Precise, Multi-Material 3D Printing
The Objet260 Connex2 3D printer puts the power and possibility of triple-jetting technology in a footprint that fits your office environment. With 120 materials to choose from, you can turn your 3D designs into impressive, high-precision prototypes.
Triple-Jetting Technology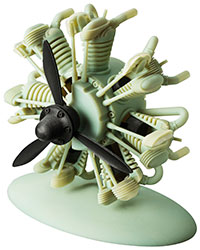 Using triple-jetting technology, the Objet260 Connex2 can combine up to 27 material properties in a single part which can eliminate time consuming assembly. Like all Connex 3D printers, the Connex2 offers outstanding 16-micron layer resolution for printing astonishing prototypes with complex geometries, smooth surfaces, and thin walls.
And like all 3D printers on the triple-jetting platform, you can replace an empty cartridge without interrupting your print job.
120 Materials
By combining two materials in specific concentrations and microstructures, you can produce dozens of Digital Materials with varying translucency, pliability and thermal resistance. Up to 27 materials can appear in one prototype with no assembly, or in a selection of diverse models all built in one job.
Digital ABS: With the Objet260 Connex2, you can build prototypes in strong, two-component Digital ABS and complete your design with a third base material, like TangoBlack for overmolding or Transparent material for light transmission.
Simulated Polypropylene: Two tough single-material options withstand the stress of living hinges, flexible closures and snap-fit parts. Combine with High Temperature material for improved heat resistance.
High Temperature: This heat-resistant material is ideal for thermal testing of static parts. Combine with Rubber material to achieve a range of Shore A values.
Bio-compatible: Medical rapid prototyping materials offer excellent detail visualization and great dimensional stability for dental delivery trays, surgical orthopedic guides and hearing aids.
Rubber: With a range of opacities and elastomer characteristics, this adaptable material is ideal for modeling a wide variety of products from soft grip handles to footwear.
Objet Studio Software
Objet Studio makes it simple to build high-quality, accurate 3D models. It automatically transforms STL files from any 3D CAD application into 3D modeling slices including both build material and support. With click-and-build wizards, you can quickly edit trays, assign materials, manage job queues and perform routine system maintenance.
Objet Studio features:
Easy tray setup including multiple models and materials
Automatic support generation
On-the-fly slicing so printing can start right away
Auto-placement of trays for accurate, consistent positioning
Multi-user networking
Specifications
Model materials:
Rigid Opaque (VeroWhitePlus, VeroBlackPlus, VeroGray and VeroBlue)
Rubber (Tango family)
Transparent (RGD720 and VeroClear)
Simulated Polypropylene (Endur and Durus)
Biocompatible (MED610)
High Temperature (RGD525)
Digital materials:
Digital ABS and Digital ABS2
Wide range of translucencies
Rubber blends in a range of Shore A values
Simulated Polypropylene materials with improved heat resistance
Support material:
FullCure 705 non-toxic gel-like photopolymer support
Material cartridges:
Eight sealed 3.6 Kg (7.9 lbs) cartridges
Three different model materials can be loaded simultaneously in the high-capacity material cabinet, and can be hot-swapped.
Net build size:
255 × 252 × 200 mm (10.0 x 9.9 x 7.9 in.)
Layer thickness:
Horizontal build layers as fine as 16 microns (0.0006 in.)
Build resolution:
X-axis: 600 dpi; Y-axis: 600 dpi; Z-axis: 1600 dpi
Accuracy:
20-85 µm for features below 50 mm; up to 200 µm for full model size (for rigid materials only, depending on geometry, build parameters and model orientation)
Workstation compatibility:
Windows 7 32/64-bit
Network connectivity:
LAN – TCP/IP
Size and weight:
870 × 735 × 1200 mm (34.25 × 28.9 × 47.25 inches); 410 kg (902 lbs)
Material Cabinet:
330 x 1170 x 640 mm (13 x 46.1 x 26.2 in.) 76 kg (168 lbs)
Power Requirements:
110–240 VAC 50/60 Hz; 1.5 KW single phase
Regulatory Compliance:
CE, FCC
Operating Conditions:
Temperature 18-25 °C (64-77 °F); relative humidity 30-70% (non-condensing)