Build Accurate Prototypes with Exceptional Efficiency
Objet Eden professional 3D printers provide 15 different material options in order to rapidly create highly detailed prototype parts with astounding accuracy and precision.
Four Professional 3D Printers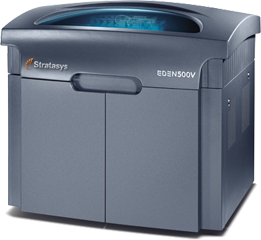 Eden 3D printers are able to build parts with layers as fine as 16 microns. This allows for the production of highly complex geometries, ultra-smooth surfaces and thin walls with extreme detail. Eden printers are ideal for products with tight tolerances or intricate details. Incorporatio of 3D printing early in the design phase helps to identify errors before they become expensive manufacturing problems.
Design, engineering and manufacturing teams around the world use Eden 3D printers to bring both small and large ideas to life. Whether you're designing a tiny custom part or a large architectural model, one of these professional 3D printers can help you perfect it.
Objet Eden260V
Build individual parts up to 255 × 252 × 200 mm (10.0 x 9.9 x 7.9 in.) with a clean and quiet office friendly system.
Objet Eden260VS
Equal to the 260V in size and performance, the 260VS is the first system to offer PolyJet technology with soluble support. Automated support removal reduces hands-on labor and reaches internal voids that the traditional water-jetting process can miss, making it ideal for intricate models with delicate features or hard-to-reach cavities.
Objet Eden350V
Build individual parts up to 340 × 340 × 200 mm (13.4 × 13.4 × 7.9 in.) with the same precision, performance and quiet operation as other Objet Eden systems.
Objet Eden500V
Build individual parts up to 490 × 390 × 200 mm (19.3 x 15.35 x 7.9 in.) or print a multitude of parts in a single build to increase productivity.
Materials
Based on PolyJet technology, the Eden systems offer a 15 distinct materials including:
Transparent: for producing clear models with great dimensional stability and surface smoothness
Rigid Opaque: (Vero family) in a variety of colors including white, gray, blue and black
Simulated Polypropylene materials with toughness and durability to create smooth prototypes with living hinges, flexible closures and snap-fit parts
Rubber-like: (Tango family) suitable for a range of applications requiring non-slip or soft surfaces
High Temperature (RGD525) for advanced functional testing, hot air and water flow, and static applications
More Precision 3D Printers
Visualize fine details with realistic multi-material models.