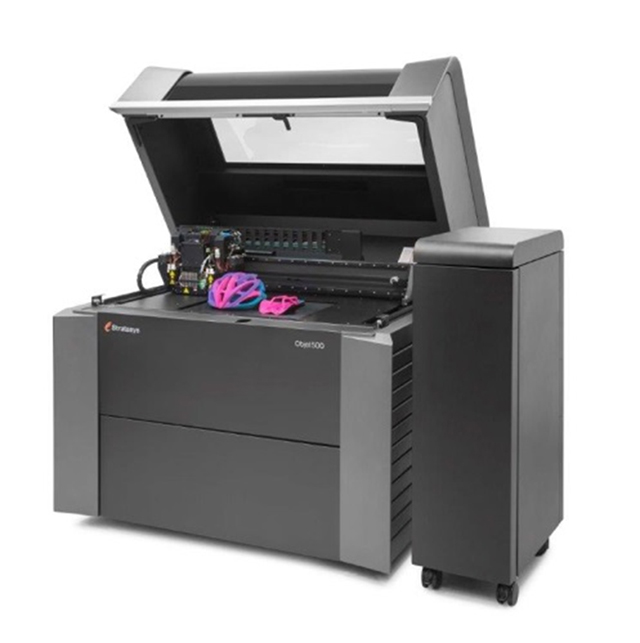 Create Detailed Multi-Material Prototypes
Accurately simulate the look, feel and function of complex part designs. Combine up to 14 different material properties into a single part, and quickly convert your most sophisticated ideas into functional prototypes.
The Connex family includes:
No assembly required with Connex multi-material 3D printers. Products comprised of two or more materials can be quickly 3D printed and evaluated early in the design cycle. Every Connex system offers 120 material options with resolution down to 16-micron layers, so you can capture every detail.
Connex multi-material 3D printers also allow you to print unique Digital Materials by mixing two different base resins together using exclusive tripple-jetting technology.
Digital Materials are unique combinations of 2 or 3 base materials, which allow you to incorporate varying hardness, opacities, and thermal properties into a single model.
The composition of each Digital Material can be selected by the user for each component which allows for the creation parts with unique material properties which can mimic the properties of engineered plastics like ABS and polypropylene.
Bring models closer to your end products
Objet260 Connex
Additively manufacture multi-material parts up to 255 × 252 × 200 mm (10.0 x 9.9 x 7.9 in.) with this clean, quite office friendly machine.
Objet350 Connex
Additively manufacture multi-material parts up to 340 × 340 × 200 mm (13.4 × 13.4 × 7.9 in.) with the same accuracy, detail and flexibility as all our Connex 3D printers.
Objet500 Connex
Additively manufacture multi-material parts up to 490 × 390 × 200 mm (19.3 x 15.35 x 7.9 in.) or produce a multitude of different parts simultaneously with the expanded build tray offered in the Objet500.
Materials
Connex 3D printers allow you to produce components with a vast range of mechanical and physical properties with 120 different materials to choose from including more than 100 Digital Materials created using Triple Jetting technology. These different mixtures of materials can range from rubber to rigid; opaque to transparent; and even ABS-grade materials.
Base materials include:
Standard: (Vero family) in a vast array of colors including white, gray, blue, cyan, yellow, magenta and black.
Transparent: for prototyping clear and tinted products with exceptional dimensional stability and surface smoothness
Rubber-like: (Tango family) suitable for a range of applications requiring non-slip or soft surfaces Simulated Polypropylene: with toughness and durability to create smooth prototypes with living hinges, flexible closures and snap-fit parts
Composite Digital Materials include:
Digital ABS: for high heat resistance and toughness to simulate ABS plastic.
High Temperature: for advanced functional testing, hot air and water flow, static applications and exhibition modeling
Transparent shades and patterns
Rigid opaque shades
Rubber-like materials with varying hardness measured in Shore A value