Makerbot 3D Printers
Bridging the Gap between Consumer and Professional 3D Printers
THE EASIEST AND MOST VERSATILE WAY TO GET FROM 3D MODEL TO 3D PRINT
Fifth-generation technology defines the new standard for ease of use, quality, and reliability. Powered by the new, user-friendly
MakerBot Replicator 3D Printing Platform App and cloud enabled Wi-Fi, USB and Ethernet connectivity ensures a seamless production workflow.
New MakerBot Replicator Smart Extruder+, motion controllers, and gantry design.  On-board camera and diagnostics, and assisted build plate leveling.
LARGE BUILD VOLUME ACCELERATES RAPID PROTOTYPING AND MODEL MAKING
11% larger build volume than the MakerBot Replicator 2 Desktop 3D Printer.
Build Volume:  [9.9 x 7.8 x 5.9 in] [456 cubic inches] Makes true-to-life objects quickly and easily Enables you to manufacture on demand.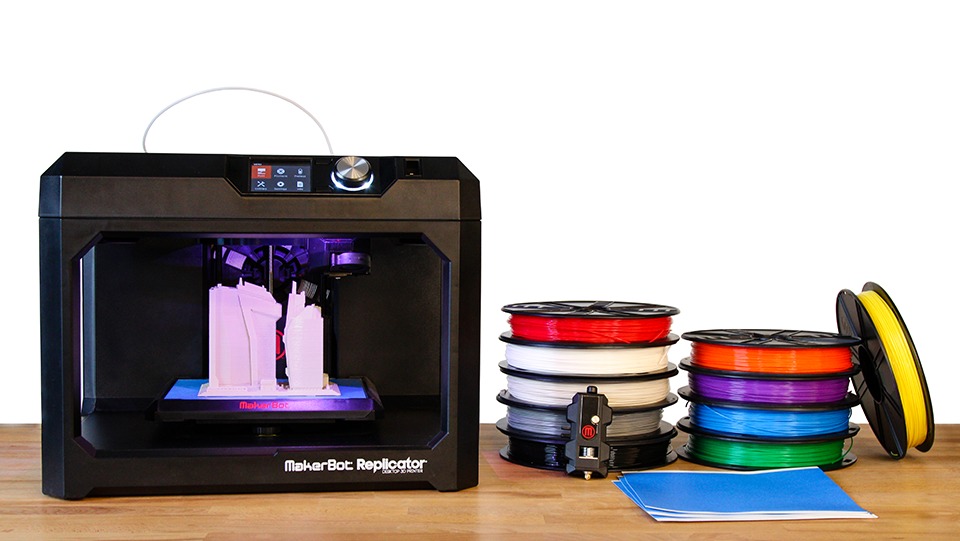 EASY AND AFFORDABLE 3D PRINTING
Trust in a 3D printer that's durable, reliable, and easy to use. Get fast and easy One Touch™ 3D Printing. Transform a small desk in your home or classroom into an exciting creativity center.Experiment with a wide range of forms, colors, and textures.
Join the large, supportive MakerBot Thingiverse® 3D design community. Print, manage, and share your 3D creations simply and seamlessly, with free MakerBot software for your PC or Mac.
ENTERTAINING, EDUCATIONAL, AND USEFUL
Reconnect with your imagination and creative power. Teach children how to think, imagine, create, craft and print in 3D. Energize and inspire children's creativity, while preparing them for the jobs of the future. Create occasions for children to bond with parents, siblings, classmates, and teachers. Remix and customize your creations to create unique gifts for family and friends. Choose from hundreds of thousands of free, predesigned, and ready-to-print educational, entertaining, and useful 3D models on Thingiverse. Make household utensils and replacement parts. Spur social creativity at parties, events, and brainstorming sessions. Print your creations while you work on other projects. For even more design possibilities, pair the MakerBot Replicator Mini with the MakerBot Digitizer Desktop 3D Scanner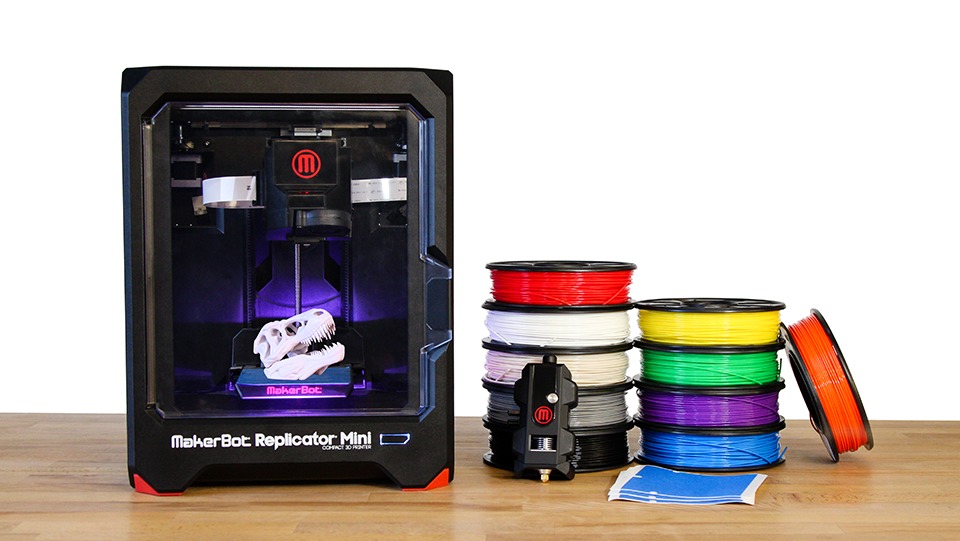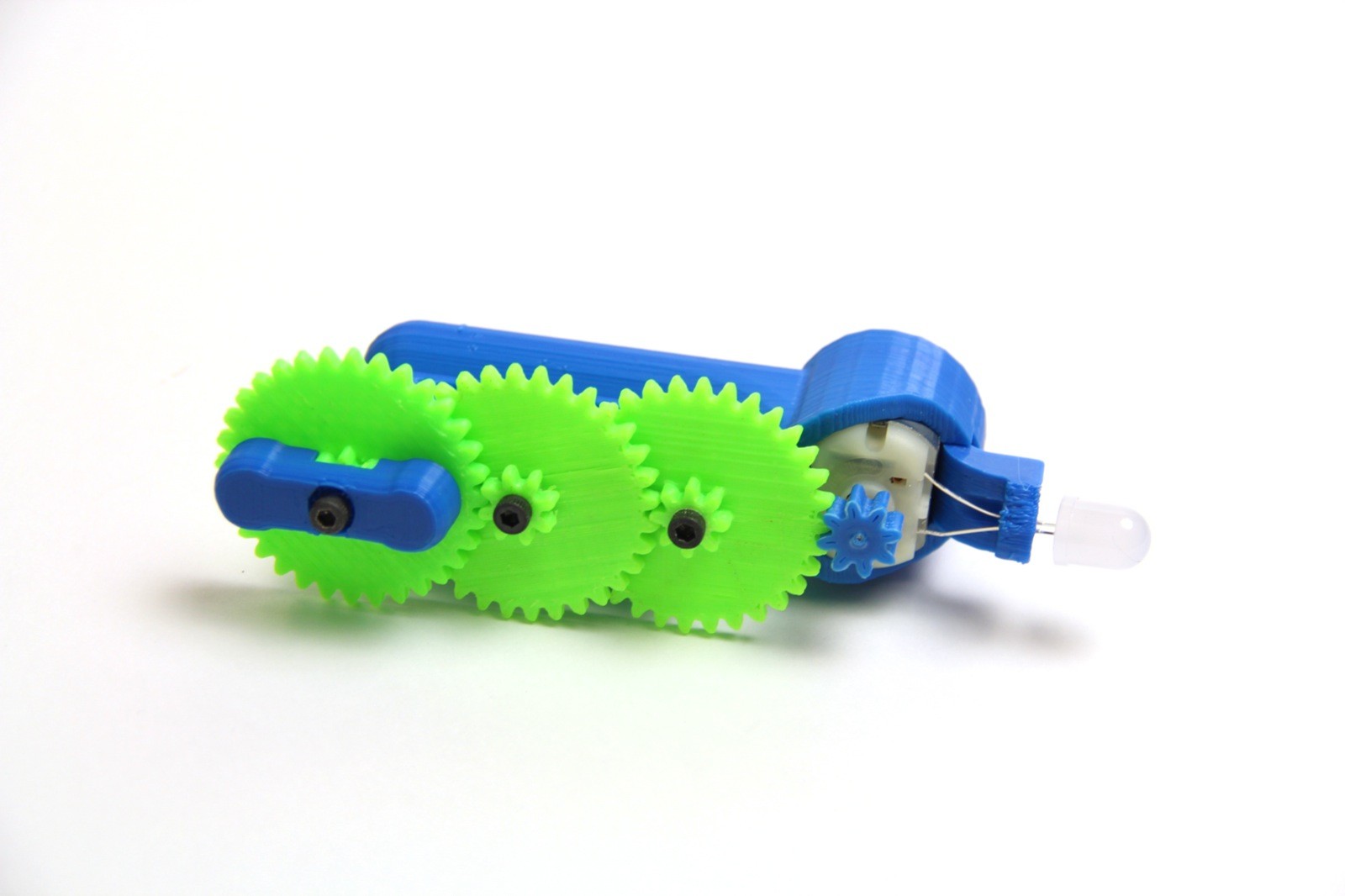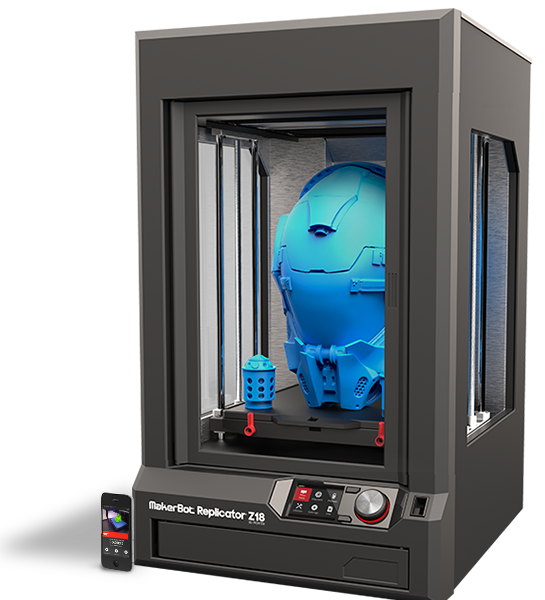 MASSIVE BUILD VOLUME
• 2,592 CUBIC INCHES
• 11.8 L x 12.0 W x 18.0 H IN
Make extra-large and ultra-tall industrial prototypes, models, and products. Think and build bigger than ever. Print multiple things at once so you can get to work on your next design sooner.
BEST PRICE TO PERFORMANCE RATIO IN THE PROFESSIONAL 3D PRINTER CATEGORY
Seamlessly integrated with the growing MakerBot 3D Ecosystem of hardware, software, materials, accessories, and solutions. App and cloud enabled with regularly enhanced software improvements. Wi-Fi, USB, and Ethernet connectivity ensures a seamless production workflow. Remotely connect to, view, and control your MakerBot Replicator 3D Printer.
PROFESSIONAL-QUALITY DETAIL
100-micron to 200-micron layer resolution. Create professional-quality, high-resolution prototypes and complex models. Get smooth-to-the-touch surfaces that don't need sanding, finishing, or post-production. Create realistic prototypes and models for demonstrations and presentations.