Digital manufacturing in a compact size
This machine is your gateway to in-house digital manufacturing. With the same powerful Insight software as our largest 3D production systems, the Fortus series builds parts so durable and accurate, you'll find its use expanding beyond functional testing and into tooling, jigs and fixtures — even ABSplus end-use parts.
Imagine faster, more effective product testing and development, all in an easy-to-use, office-friendly system.
Fortus 380mc and 450mc
Direct Digital Manufacturing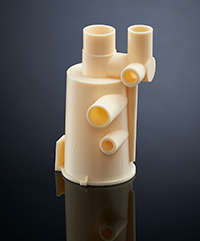 Fortus 380mc and 450mc 3D production systems allow you to take ideas from design to manufacturing within a matter of hours. With increased speed, performance, and accuracy, these production ready systems are able to create anything from functional prototypes to manufacturing tools, jigs and fixtures.
The competitive advantages of additive manufacturing are continuously reinforced by a growing list of supported engineering and high-performance thermoplastics.
High-Performance FDM Systems
The 380mc and 450mc 3D production systems let you build, accurate, repeatable parts faster than ever before. Produce jigs, fixtures, factory tooling and end-use parts, as well as functional prototypes to withstand stringent testing. With four layer thickness options from which to choose, you can always find the right balance between strength, detail, and FDM's fastest build time.
Both Fortus 380mc and 400mc systems build complex parts faster than their predecessors and feature an all-new touchscreen interface for straightforward operation and maintenance.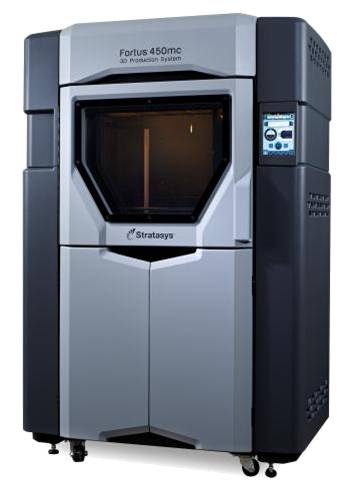 Fortus 380mc
Build parts as large as 355 x 305 x 305 mm (14 x 12 x 12 in.) significantly faster than the previous generation, especially for complex geometries. The Fortus 380mc offers the same fast build time as the 400mc, and offers seven different standard and engineering thermoplastics.
Fortus 450mc
Build parts as large as 406 x 355 x 406 mm (16 x 14 x 16 in.). The Fortus 450mc works with 9 standard, engineering and high-performance thermoplastics.
Materials
Both systems work with these production-grade thermoplastics:
ABS-M30 in six colors for great tensile, impact and flexural strength and environmental stability
ABS-M30i for biocompatibility
ABS-ESD7 for static dissipation
ASA for UV stability and the best aesthetics
PC-ISO for biocompatibility and superior strength
PC for superior mechanical properties and heat resistance
FDM Nylon 12 for maximum toughness
The Fortus 450mc also works with ULTEM 9085 for high strength-to-weight ratio and favorable FST rating. ULTEM 1010 compatibility is coming in 2015.
Fortus 900mc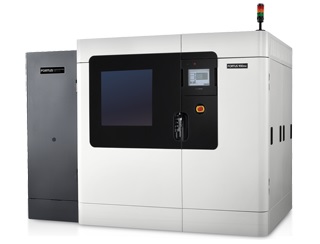 The ultimate 3D production system
The Fortus 900mc is the most powerful Fused Deposition Modeling (FDM) System. It's remarkably agile, accurate and cost-effective.
Two big advantages: all the material options of the Fortus line of 3D Production Systems, and a massive build envelope. Its only competition is the old way of doing things.
Rethink Everything
11 identical complex parts on a Fortus 900mc build tray
The Fortus 900mc 3D Production System builds durable, accurate, repeatable parts as large as 914 x 610 x 914 mm (36 x 24 x 36 in.). With nine material options, it's suitable for building fixtures, factory tooling and end-use parts, as well as the most demanding 3D prototyping. This machine features two material bays for maximum uninterrupted production. Materials include high-performance thermoplastics for biocompatibility, static dissipation and resistance to heat and chemicals. With three layer thicknesses to choose from, you can strike just the right balance between fine feature detail and FDM's fastest build. Fortus 900mc throughput is more than twice that of the Fortus 250mc.