All-in-one power. All-new possibilities.
Now there's a more capable, more affordable professional 3D printing solution–from the leader in 3D printing. The Stratasys F123 series combines powerful FDM technology with design-to-print GrabCAD software for the most versatile and intelligent solution available.
Produce highly accurate, reliable prototypes, projects, production parts and more. Do it all without the need for dedicated expert staffing and share it all with the GrabCAD software.
The Stratasys F123 series is the ultimate, all-in-one 3D printing solution.
The F123 Printer Family includes:
Stratasys F170
Stratasys F270
Stratasys F370
---
---
No Expertise Needed
Minimal Setup: Simply just plug it in and start your 3D printing.
Auto-calibration: Ensures you spend your time 3D printing, not troubleshooting.
Fast & Easy Material Swaps: Helps maximize productivity
GrabCAD Print Smart Software: Easy-to-use, intuitive CAD-like application.

Simplified the 3D printing process entirely.
Features detailed reporting and remote monitoring for easily manageable, controlled prints.
Allows for seamless sharing of projects and files from any device.
Simple functionality allows every user to utilize 3D printing's power.

More Ways to Make: Offers a range of strength & layer resolution options

Gives the option of up to 4 different materials
Easy-to-remove soluble support material
Accurately reproduce any shape in real production plastics
Versatility allows effortless adaptation
Exceptional Efficiency, Performance & Value
The Stratasys F123 series features the all-new fast-draft mode to produce initial design concepts quickly and economically. Now you can print twice as fast as standard build mode while consuming just a third of the material on average. For even more efficiency and savings, choose PLA. A thermoplastic made from renewable resources, PLA gives you the speed of fast-draft mode while keeping material expenses down. Spend less, create more. That's smarter 3D printing.
The Stratasys F123 series also lets you print everything from fast,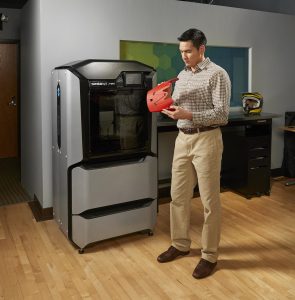 low-cost concept models to durable assemblies. Create complex parts and assemblies with no compromise on accuracy, detail and repeatability. Even for your earliest design iterations, you can expect Stratasys quality and dependability. Super quiet and office friendly. Reliable, consistent printing ensures less waste. Designed for the way you work, it's a smart business move.
The all-in-one power of the Stratasys F123 series provides value all around — with expanded capabilities and unprecedented accessibility. New and improved features save time and material. Incredible ease of use with both the hardware and the software means you don't need special 3D printing expertise.
Smarter Software
GrabCAD Print software simplifies the entire 3D printing process with an intuitive CAD-like application anyone on your team can use. And with features like detailed reporting and remote monitoring, you can easily manage your print jobs from outside the office. Combined with the ability to seamlessly share projects between users, it all adds up to a more streamlined, efficient workflow.