Markforged Onyx Series
Print Amazing Carbon Black Parts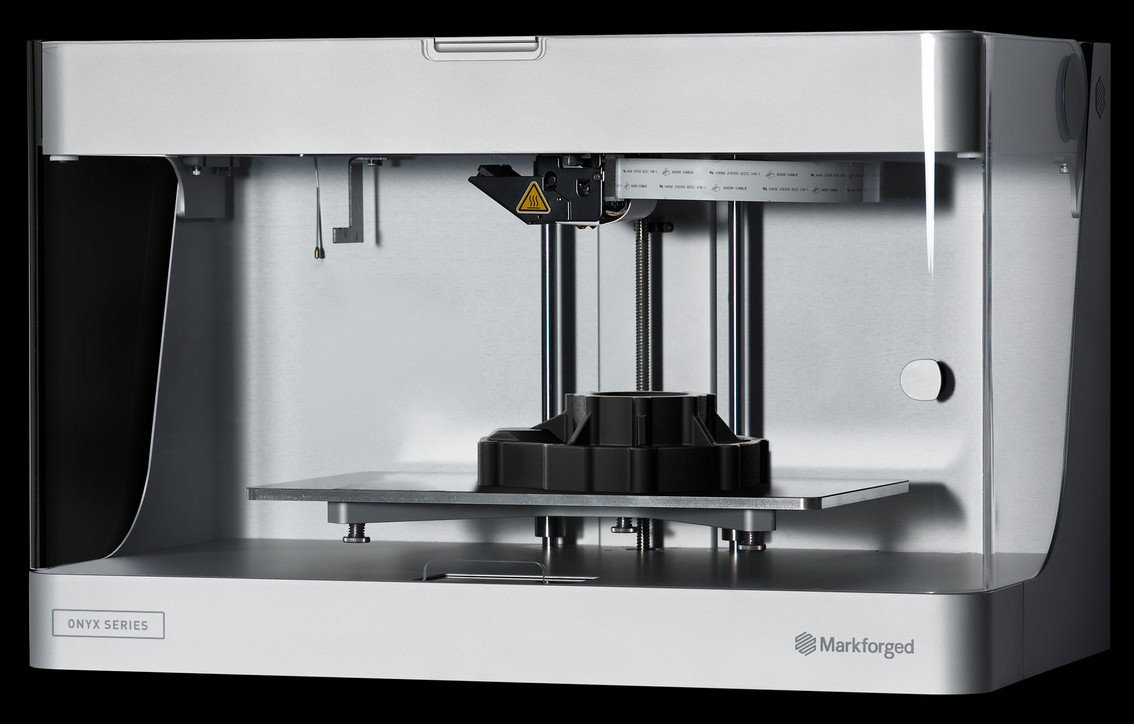 Introducing the best, most accessible desktop 3D printer designed uniquely to print beautiful carbon black parts. Markforged's Onyx Series 3D Printers are the only 3D printers in the industry completely designed to produce chopped carbon fiber prints. This ground-breaking materials features incredible surface finish, stiffness and temperature tolerance. No competing 3D printers offer you the benefits of constantly improving functionality like the Onyx Series. Start with the Onyx One and create parts for a wide variety of applications using our acclaimed Onyx chopped carbon fiber filament. Step up to the Onyx Pro for the impressive strength of adding continuous fiberglass for strong composite parts.
Upgrade with Ease: 
Each printer in the Onyx Series, beginning with the Onyx One, can be upgraded to either the next step up, or the Markforged industrial lineup. When you need stronger parts, upgrade your Onyx One to an Onyx Pro by adding continuous fiber printing capability. This quick step happens at your desktop and will let you print parts with 5x the strength of Onyx alone.
Software
With automatic version control, real-time fleet management and cloud-based collaboration, Eiger is the world's most advanced 3D printing software. Designed from the ground up to make manufacturing simpler, Eiger enables you to print plastic, metal and composite parts straight from your browser.
Turbo Print (Coming Soon!)
Turbo Print is another first for Markforged Onyx customers, available through our Eiger software. Combining innovations in material delivery and software, Turbo Print enables you to get the parts you want dramatically faster with no loss of surface quality or resolution. 2x average speed increase w/ 100 micron layer height.
Onyx One
The Onyx One features a single print head designed uniquely to create parts with our Onyx chopped carbon fiber filament.
Build Volume: 320 mm x 132 mm x 154 mm  (12.6 in. x 5.2 in. x 6.06 in.)
Z Layer Resolution: 100 micron
Package Includes: Onyx One 3D Printer (w/ access to cloud), Eiger Software & 800cc Onyx spool
Onyx Pro
The Onyx Pro, with a second print head exclusively for continuous fiberglass, is your entry to seriously strong reinforced composite parts that Markforged is known for.
Build Volume: 320 mm x 132 mm x 154 mm  (12.6 in. x 5.2 in. x 6.06 in.)
Z Layer Resolution: 100 micron
Fiberglass material capability
Package Includes: Onyx One 3D Printer (w/ access to cloud), Eiger Software, 800cc Onyx spool & 50cc Fiberglass