Desktop Metal Studio 3D Printer
Metal 3D Printing Made Easy
---
Introducing the Studio System, an easy-to-use metal 3D printing system designed to provide users with end-to-end solutions. The system includes the Studio Metal 3D Printer and the first office-friendly sintering furnace on the market. With the Studio System, users no longer have to deal with the lengthy process of machining and casting parts –  simply 3D print metal parts of extreme complexities while at home or at the office.
The Studio Metal 3D Printer
---
Designed for simple installation and use, the Studio Metal 3D Printer uses a printing technology known as Bound Metal Deposition (BMD), a process very similar to the popular Fused Deposition Modeling (FDM). The printer creates parts by heating and extruding bound metals rods which removes the need of metal 3D printing safety requirements. In turn, this opens up new alloys and provides users with a variety of unique features.
Supported file types – STL, IGES, JT, STEP, VDA-FS, U3D, VRML and Native file types (i.e. Solidworks, ProE, others)
Build Parts up to 300mm x 200mm x 200mm
Printing Speed up to 16cm3 per hour
Layer Height of 50μm and up
Achieve over 98% Density
Change Materials in less the 1 minute
Remove parts by hand
Fully-automated process
7″ Touchscreen controls
The Studio Sintering Furnace
---
The first office-friendly sintering furnace delivers users industrial strength sintering through a simple, automated process. By combining SiC heating elements with powerful microwaves, the cloud-connected furnace is able to sinter 3D printed, highly dense parts upon removal of the primary binder.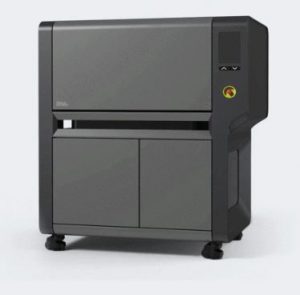 Hybrid Heating: microwave & conventional elements
Built-in Expert Metallurgy
Tight Tolerances: +/- .002in/in
Automatic level & gas type detection
Built-in safety fail, filters and binder cold traps
7″ Touchscreen controls
Adjustable part trays
Materials Available
---
Alloy Steel: 4140 Chrome Moly
Copper: C11000
Low Expansion: Kovar F-15
Super Alloy: Inconel 625
Stainless Steel: 316L (Austenitic) & 17-4 PH
Tool Steel: H13
 Materials in Development:
---
Alloy Steel: 4605 (FN02)
Aluminum: 2024, 6061, 7075 & AlSi10Mg
Carbide: WC-3Co
Copper: Bronze
Heavy Alloy: Tungsten & Veloxint Hard Metal
Low Expansion: Invar 36
Super Alloy: Cobalt Chrome F75, Hastelloy & MP35N (Ni, Co, Cr, Mo)
Stainless Steel: 15-5 PH, 303 (Austenitic), 316L Duplex, 410 Martensitic, 420 Martensitic, 440 Martensitic, 430 Ferritic, HK30Nb, Nitronic19 (Duplex), BIODUR 108 (Ni Free)
Magnetics: Hiperco 50
High Performance Steel: Maraging Steel 18Ni300 & Veloxint Stainless
Titanium: Ti64 & Commercially Pure Titanium
Tool Steel: A2, D2, M2 & S7
Other: BASF Catamold