When looking to purchase a 3D scanner, many consumers struggle to make sense of the product they're looking to buy. The various types of scanners available to consumers, such as 3D laser scanners and structured light 3D scanners, consists of different 3D scanning technologies. It is important that buyers are knowledgeable of these different products in order to determine which type of scanner will best satisfy their needs. This guide is intended to help bring clarity to the various types of 3D scanning technologies and also assist in finding the best suited 3D scanner for you.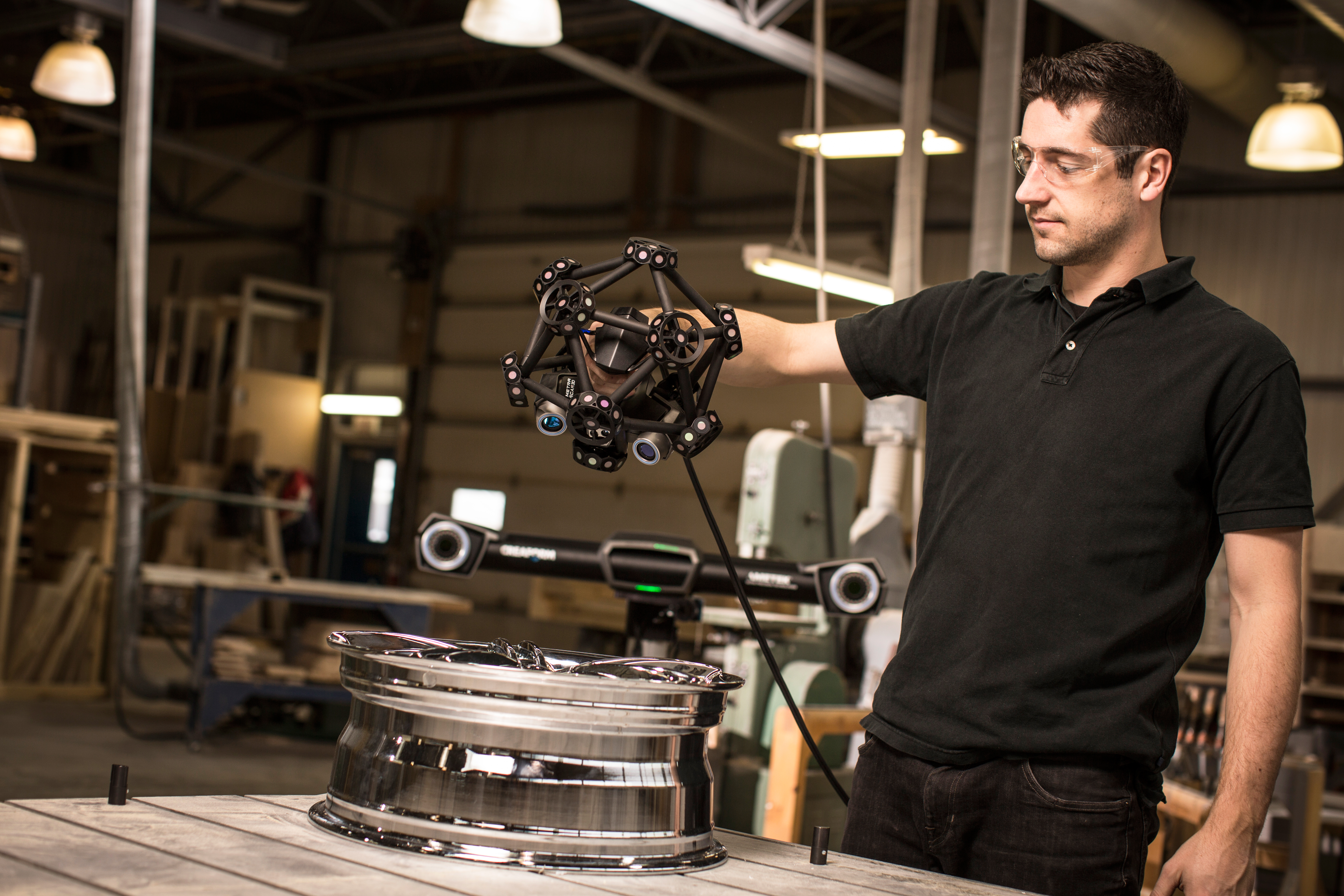 Much like 3D printing, sometimes purchasing a 3D scanner isn't necessary at all. 3D scanning services are offered from companies with experts in the technology on their staffs who can perform scans for you professionally. These companies specialize in selecting the best 3D scan for each specific job. Case-studies on company websites exemplify the services they have performed and give insight on the capabilities of the various 3D scanning technologies.
Choosing the Appropriate Scanner
•What Are You Using the Scans For?
This is the first determining question that needs to be asked when trying to choose the correct 3D scanner for a job. The field of application you are using the 3D scanning technology is extremely important. If you need a mesh that will be high in resolution, and also provide the substance of the material. you would probably choose a 3D scanner that uses photogrammetry technology. Whereas if you wanted to primarily get accurate measurements of an object, a structured-light 3D scanner would be the best option. Apart from what kind of scans you're looking for, you must simultaneously decide where you will be scanning the devices in order to determine whether you'll need to purchase a stationary 3D scanner or a portable one.
•What Are You Scanning?
The second determining question in the selection process is what type of object is being scanned? Each type of 3D scanning technology is specific, not one technology covers every area of application.
Photogrammetry: useful for scanning people, animals, etc.
Structured Light: provides extremely precise measurements for small objects and those of delicacy.
Time of Flight: effective in taking images of objects in real time, making the ability to track movements easy.
Laser: extremely useful in scanning large objects, such as cars and buildings.
Contact: primarily useful in quality control, can potentially deform or destroy original object.
As you can see from the previously discussed types of technologies that are listed above, the type of object is a huge component in determining what type of 3D scanner best suits your need.
•How Big Is Your Object?
Dimensions are the next determinant that needs to be addressed in selecting the appropriate 3D scanner.  3D laser scanners are primarily useful in scanning large objects. Photogrammetry may be a more cost-efficient scan for larger objects, depending on what needs and goals you have for the data produced. Opposite to this, structured light scanners are highly effective at scanning small items, such as a drinking glass. If object preservation is not a factor, and the item is not of great size, you could use a contact scanner.
•What Is The Surface of the Object?
The external surface of an object is a major factor is choosing the best 3D scanner for a job as well. The material can potentially cause major problems if the appropriate scanner is not used. For example, reflective surfaces can cause deformity in the data mesh of both photogrammetry and structured light technologies. This surface of an object can effect the end result of even the best 3D scanners. A solution to problems with surface material can be to apply an opaque layer to the object when scanning, if you are biased to one type of scanning technology.
•How High Do I Want the Resolution to be?
Depending on what your use for a 3D scan is, the resolution may be one of the most pivotal attributes needed from the scan. If you are in need of a highly accurate scan, you'll more than likely be spending a significant amount more of the 3D scanner. This takes us back to the question of, what are you using the scans for? Once you are able to answer this, how much resolution you need to complete the job should be more easily determined.
---
HandySCAN 700™
The HandySCAN 700 offers increased accuracy and resolution. It is the most versatile 3D scanner on the market for inspection and demanding reverse engineering. Along with a self-positioning system, optical reflectors are used to create a reference system that is "locked" to the part itself, so users can move the object any way they want during scanning sessions (dynamic referencing). Changes in surrounding environment have no impact on data acquisition quality or accuracy.The scanner is incredibly user-friendly and provides an overly simple 3D scanning process.
3D Systems iSense
A photogrammetry scanner, 3D Systems iSense, is a quite capable scanner for its class. It's very simple to operate, as a user simply opens up the application, selects the item to be scanned and conducts the scan. However, the technology is only compatible with iOS systems, which means scans will not be compatible with other systems such as Android and Windows. For a rather simple scan that is affordable, 3D Systems iSense is a decent and affordable choice.
MetraSCAN
The MetraSCAN 3D scanner, from Creaform, addresses the need for reverse engineering and dimensional inspection of production tools, jigs, assemblies, sub-assemblies or final products ranging from 1 to 3.5 meters. Creaform's TRUaccuracy™ technology ensures highly-accurate measurements, regardless of the measurement environment. With its extendable measuring volume, incredible speed, shop-floor accuracy and impressive capabilities on challenging materials, the MetraSCAN 3D optical CMM represents the most complete metrology-grade 3D scanner on the market.
Sense: Handheld 3D Scanner
Similar to the iSense, the Sense is compatible with Windows operating systems. The device requires users to have it plugged into a computer or tablet in order to perform scanning. The scanner has the ability to scan items up to 200 centimeters in height and width which provides some good flexibility and rage for a handheld, user-friendly 3D scanner. Affordability is perhaps the greatest asset this Time of Flight scanner provides to consumers.
Want to Learn More about 3D Scanners & Services?