3D Systems Figure 4 3D Printing System
Making 3D Production real with scalable, modular factory solutions
The first-ever scalable, full-integrated 3D printing systems with lighting-fast speed that enables up to 15x faster throughput and reduces part costs up to 20x!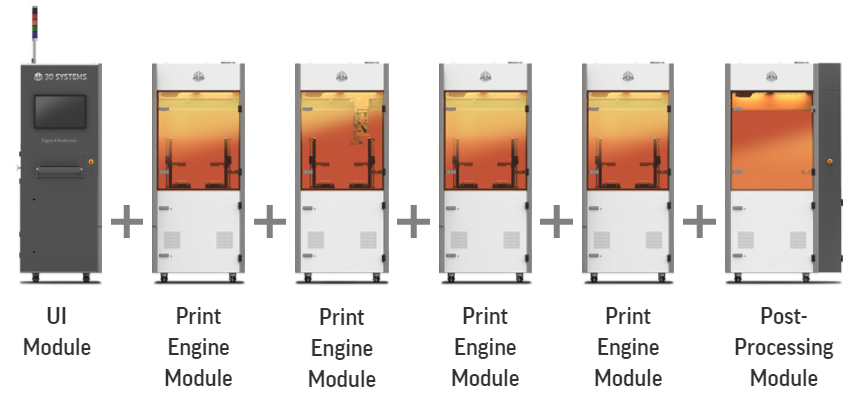 Reinventing the Factory
Figure 4 solutions completely eliminate production delays by delivering incredibly accurate parts in a wide range of durable, production grade materials that allow for the immediate part turnaround – with no costs or delays from tooling. With an unmatched digital design flexibility allowing for updates at anytime, the Figure 4 complete cuts out downtime and enables increased productivity, durability, repeatability and lower total cost of operations (TCO).
Modular Platform Grows with Manufacturing Needs
Delivered in configurable units for anytime scalability, Figure 4 allows manufacturing capacity to grow alongside demand – from a standalone printer for rapid prototyping and low volume direct 3D production, to modular systems that grow as your volume grows, up to a fully-automated, fully-integrated factory solution.
Diverse Range of Materials
One of the greatest advantages of Figure 4 solutions is the vast array of advanced material capability. 3D Systems new functional plastics remove the lengthy photo- and heat-curing processes and only require printing and curing – making the process lighting fast. The materials feature the same durability as traditionally manufactured parts and include a broad range of industrial, dental and custom materials to enable true replacement of injection molding and urethane casting. The result is a level of accuracy and surface finish unlike any other currently available materials.
High-Speed Digital Molding
Accelerate and simplify your manufacturing process. Figure 4 delivers repeatable, true-to-CAD part accuracy in a flexible and agile digital molding workflow, producing production parts in an environment that matches the accuracy, reliability, repeatability and uptime of traditional injection molding.
Figure 4 solutions use 3D Sprint, 3D Systems' advanced software for file preparation, printing and management from a single, intuitive interface.
Figure 4 Factory Solutions
Productive and cost-effective digital molding solutions for any production environment
There is a Figure 4 solution capable of satisfying any production requirements. Of the various models and configurations available, each Figure 4 solution offers shared range of features, benefits and addressable applications.


Figure 4 Production
The first-ever scalable, fully-integrated factory solution for 3D production.
The Figure 4 Production provides the design flexibility of additive manufacturing in configurable, in-line production modules to bring users a customizable and automated direct 3D production solution for building the same or similar parts. Figure 4 Production provides a tool-less digital molding with results that challenge injection molded part quality. Features like automated material delivery and integrated post-processing reduce hands-on processes to streamline operations and lower total ownership costs.
Applications:
Rapid tooling of molds and master patterns
Jigs and fixtures
Replacement of traditional injection molding and cast urethane processes
End-use durable plastic parts
Features:
Production-grade materials
Industry-leading 3D Sprint software for file preparation and production
Cloud connectivity for predictive and prompt service with 3D Connect
Benefits:
Efficient design iteration
Application flexibility
True-to-CAD accuracy with injection molded part quality
No tooling time or cost
Accelerated time to market vs. traditional manufacturing
Lower part cost over competing technologies


Figure 4 Modular
Upgradable 3D Production Solution Design to Scale with Growth
Expand your 3D production system as your company grows with this affordable model. Ideal for any company that prefers a streamlined post-processing solution where a single, high-throughput line can serve a vast amount of parts being produced. Get same day print-and-ship for 3D production and prototyping in a diverse array of materials and sizes.
Applications:
Rapid functional prototyping
Low volume bridge manufacturing
Casting patterns
Elastomeric parts (shoe soles, automotive parts, surgical aids, sports equipment, etc.)
Features:
Expandable capacity up to 24 print engines
Individual print module automated material handling
Manual post-processing (cleaning, drying, curing)
Benefits:
Flexibility to adapt to production layouts
High throughput and productivity
Same day print and ship

Figure 4 Standalone
Affordable and Compact Industrial-Grade Solution for Lower Cost Production Parts
The Figure 4 Standalone provides an inexpensive solution for any low volume production and is ideal to fast, accurate prototypes – capable of producing hundreds of parts per month. This systems provides incredible quality and accuracy with industrial-grade durability, service and support.
Applications:
Rapid functional prototyping
Covers and housings
Concept models
Features:
Manual material feed
Manual post-processing (cleaning, drying, curing)
Benefits:
Affordable initial investment
Industrial-grade durability
High throughput vs. competitive 3D printing technologies
Low total cost of operations
*Throughput improvement compared other 3D printing systems based on various use cases on Figure 4 models; parts cost compared to traditionally manufactured parts and operations.
Redefine Your Production Process Today with the Figure 4 3D Printing System